What does my property Tax pay for?
Every year in the spring nature takes the center stage at the same time it is time when local governments figure out where money is going to come for their yearly budgets. In Texas local property tax is the largest single funding source for community services. State government receives no benefit from these local taxes. Our local property taxes help to pay for your public schools, city streets, county roads, police departments, fire protection and many other vital programs.
Your Property Evaluation Notice and your right to protest:
March thought April 30th all the property owners get notice from the appraisal districts of counties their properties is located at. The 2018 is no exception you should have gotten your Notice of Appraised Value in the mail by now. Also included in the notice is a page where you can use to protest the evaluation. One of your most important rights as a taxpayer is your right to protest to the appraisal review board (ARB) evaluation. You may protest if you disagree with the appraisal district value or any of the appraisal district's actions concerning your property.
Deadline to File Protest:
The deadline to file a protest each year is May 15th or 30 days after date of Notice of Appraised Value – whichever is LATER (date of the notice is on the top left hand of the notice on the first page). That means if you received your Notice of Appraised Value in March or early April, you have until May 15th to file a protest – even if there is an earlier "deadline" printed on your Notice of Appraised Value. To be safe go head and file your protest by April 30th. After county gets your protest, the county will send you in writing two dates and times you can choose to appear to discuss your evaluation with them, and times are noted as: informal and formal dates and times.
Below is the diagram which outlines the timelines from the Texas comptroller office.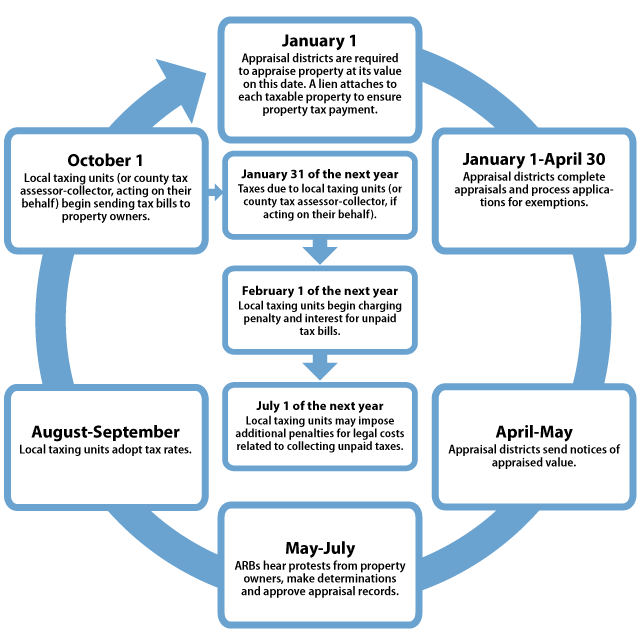 If you've never protested your property value before, there are a few things you can do that will better your chances of achieving your desired outcome.
1. Don't wait until the last minute.
Technically, you have until May 15th to file your protest, but, don't wait until then. Most of the information you need is available on the appraisal district's website, along with a helpful explanatory presentation. When completing the protest form (which you can complete through the county's eFile portal), be sure to fill out everything. However, if you're unsure of what your property value should be, leave that field blank. Also, make sure you check both of the first two boxes: "Incorrect appraised (market) value" and "Value is unequal compared to other properties." You can always easily withdraw either protest later. If you decide that you don't wish to use the county's eFile system, it's best to hand-deliver your protest to the appraisal district office or mail it before deadline via certified mail. This way, you'll receive a date-stamped copy of the form and will have firm documentation that you filed the protest. Also check the box you want evidence of their evaluation to be send to you. The evidence can be sent to you via email or mail. If two weeks before your scheduled appointment, you still haven't received the evidence, call them and tell them you don't have it—you'll need this information (at least) several days before your hearing. Note: The county's eFile portal will supply you with the comparable sales and other evidence, and it will also allow you to receive and accept the county's settlement offer (if applicable).
List of Central Texas Counties and Links to each of Appraisal District.
I also have a full page on my site called central-texas-property-taxes-appraisal-districts about property taxes with link in the bottom of page to all the central country sites. Each county sites have more useful information for you to read and learn, possibly efile protest or print your protest form if you misplace it.
2: My recommendation is always go to the informal hearing first.
Please go at least 30 minutes before the time of hearing. Usually you will meet with one the member of board and discuss the evaluation and make your case to that person, it is best to be prepared when you go. If the informal hearing does not produce result you like, then you have the option to go to the formal hearing. In formal hearing you will make your argument in front of 3-4 panel volunteer board members which are there to hear your case and your side of the facts and 1 to 2 members of ARB argument (just like small court setting), be prepared to present your side and case well with facts.
3. You catch way more bees with honey than vinegar, be nice and respectful.
Let's face it. No one likes to pay more in taxes. Well, I don't exactly know if that's true, but I've yet to meet anyone who has said, "I'd love to pay more taxes." So, it's only natural to be frustrated when you submit your protest and, if necessary, go before the review board. However, please remember that your frustration is with the appraisal district, not the review board. Also, keep in mind that, while your appraisal may or may not accurately represent market value, the district does employ many good people who are simply trying to serve the county and do a good job. The vast majority of them are good at what they do. And, just like you, they are there to do a job and then go home to their families.
4. Stick to the facts.
Don't waste your time talking about how much your value has gone up over the last five years (or however long). The ARB can only deal with your current-year value. Period. That is, unless your previous year's value is over 30% higher than realistic market value, which is rare. Also, please keep in mind that, "My taxes are too high," is not an argument. The board can only deal with your property value and appropriate exemptions that you might qualify for. So, stick to the facts. You'll be glad you did. And, so will the review board.
5. Make the most of your hearing with the review board.
Once you've received the evidence from the district, you have a decision to make. The evidence from the district will compare your home to two sets of properties—one is for market value and the other is for the unequal appraisal. Market value is what similar houses near yours have recently sold for. The other set is a comparison to appraisal district values of other homes in your area. Do your best to think through questions you might receive from the review board. If you're comfortable with the value (or revised value) they were able to support with their evidence, you can simply point out in your hearing that your original notice was too high and that you're now comfortable with the revised number. If you wish, you can withdraw one of the protests and tell them that you'd like to only focus on the Market Value or the Unequal Appraisal, whichever (if any) is in your favor. If you aren't satisfied with the value found in the district's evidence, you'll need to bring your own supporting evidence to your hearing.
6. Craft a convincing argument.
First off, the review board will most definitely ask you what you think your property is worth. Go in with a realistic answer. Do not—and I repeat do not—answer, "I don't know." Also, don't say, "What it was last year." Give them a number. If your number differs from what you originally put on your protest form, it's acceptable to say, "I've done some more research, and I now feel like $X is a more accurate value." If you take issue with the sales comparisons provided by the district, bring your own comps and be sure to omit any foreclosures, that is, unless you've recently had numerous foreclosures in your neighborhood. For sales comps. I always be glade to help with comps if possible. Just let me know ahead of time. Lastly, take good pictures on things that could negatively impact the value of your home (Ex. Foundation issues, poorly-maintained property adjacent to yours, etc.). Close-ups are always helpful, but be sure to include a broader view, too. Also, don't overdo it. You know that annoyingly anxious feeling you get when your friend wants to show you every single picture from their recent vacation? That's how the review board feels when you show them every house on the block. So, keep it brief. Also remember anything you share with them it becomes part of public records.
7. Stick to your guns.
Throughout this process, it's possible that a district appraiser could have a one-on-one session with you about your appraisal. If, during your session, you don't feel they've lowered the value enough, don't let them pressure you into canceling your ARB hearing. There's no guarantee that the ARB will lower it more—they could actually give you a higher value. But, have a good idea of what you think is fair and stick to your guns, while being respectful, if you're speaking directly with an appraiser. These six steps won't necessarily guarantee you that your property value will be lowered, but they will most definitely ensure that you receive the best hearing possible.
If you have any question or want to discuss your evaluation you can contact me Roya Johbson, I have personally protested my property taxes many times and found it beneficial. You also can go to royarealty and view the list of homes for sale in your area and county.
Roya Johnson is a licensed real estate broker associated with Keller Williams Realty with her own office in Central Austin. Roya has over thirty years of real estate experience in Texas; Roya Johnson and her family also are property owners in Texas contact roya Johnson.
Thank you Rick Smith for sharing your knowledge regarding this subject, Rick is a real estate investor, licensed home mortgage lender, and insurance adjuster. He previously served on the Appraisal Review Board which I think is very valuable inside to appraisal districts.