Lake-Travis & Waterfront PropertiesLake Travis, Lake Austin, and Lady Bird Lake are part of the seven Highland Lakes in Central Texas. Located in the Texas Hill Country, starting 65 miles northwest of Austin; they include Lake Buchanan, Inks Lake, Lake LBJ, Lake Marble Falls, Lake Travis, Lake Austin and Lady Bird Lake. Lake Travis is the fifth lake among this chain of lakes on the Colorado River. It is the longest of the seven Highland Lakes, with 270 miles of shoreline. At its widest point, the lake is 4.5 miles in width and ends at Mansfield Dam, where Lake Austin begins. Lake Travis, the only flood control lake on the Highland Lakes, is a haven for water recreation and attracts a variety of water sports enthusiasts. From multi-class sailboats and windsurf racing to competition ski boats, cruisers, "cigarettes" houseboats, they all come to enjoy this large beautiful lake. It is truly a gem among Texas Lakes. Lake Travis is a place where crystal clear streams, towering trees, and the Texas Hill Country all join to offer an ideal environment for living, entertaining and recreation. Lake Travis offers a vast variety of waterfront properties ranging from $500,000 to several million in price.
We have put together a list of some the most beautiful homes in Lake Travis for you to scroll through. Please review them and contact us with questions or to preview these homes.
Many families come to Lake Travis area because of its execelent school district, for more information see Central Texas Schools or contact us for your real estate needs..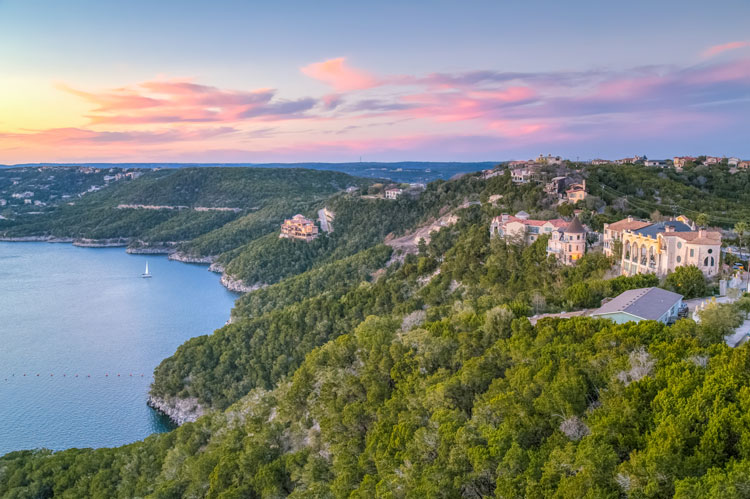 Lodging options in the Lake Travis community are casual with a touch of class. Hotels, resorts, bed & breakfasts, RV parks and campgrounds provide a full range of amenities to both pleasure and business seekers in the area. Conference facilities, direct access to marinas and recreation areas, and spectacular scenic views are just a few of the beautiful offerings of Lake Travis area accommodations. Explore a culinary spectrum in the Lake Travis area. A world of fantastic dining awaits you at the numerous restaurants in the region. Friendly wait staff, skilled chefs, and bakers offer top-notch cuisine and warm welcomes in restaurants, eateries, bakeries, candy stores, grills, and pubs. Diners can experience a full gourmet gamut, from Tex-Mex roots with a Yucatán flair to barbecue to seafood specialties and traditional American favorites. Relaxed and casual is the dining tradition in Lake Travis, and there is no shortage of places to go for family-friendly meals or to grab a quick bite on the go. Pubs with vast drink specialties beckon friendly nights out, and when the mood calls for a more elegant atmosphere, there is also a selection of fine dining establishments. Contact us to learn more and view properties in the Lake Travis area.
You also can search with your own criteria Lake Travis Waterfront Properties or scroll through more listings. Contact us with any questions or preview these homes.